Helena Beauchamp
Biographical information
Born
Status
Occupation
Titles
Species
Gender
Family information
Family members
Played by
First seen
Last seen
.
Helena Beauchamp is a witch of the Beauchamp family. She is first mentioned in The Son Also Rises, when Ingrid found the book Occult History of Sorcery and discovers a chapter about her family, the Beauchamps. She rules over the Underworld and gathers the souls of the dead. 
Powers & Abilities
Basic Powers
Individual Powers
Gatherer's Powers
History
Helena Beauchamp is first seen in
For Whom The Spell Tolls
. After
Wendy
gives up her last life to bring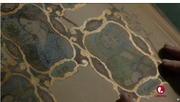 Tommy
back to life, Wendy is seen waking up in The Lake of Fire within
The Underworld
. 
It is there that she is greeted by a robed figure. Wendy then recognizes her as Helena.
Trivia
References
http://www.ibtimes.com/witches-east-end-ep-maggie-friedman-teases-shocking-death-season-2-finale-1699194
Ad blocker interference detected!
Wikia is a free-to-use site that makes money from advertising. We have a modified experience for viewers using ad blockers

Wikia is not accessible if you've made further modifications. Remove the custom ad blocker rule(s) and the page will load as expected.