Maggie Friedman is an American screenwriter and Producer.  She is the showrunner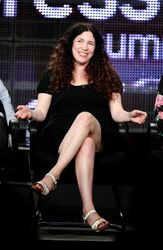 and executive producer of Witches of East End. She also developed and produced the short lived ABC series "Eastwick" in 2009.
Working on Witches
When Maggie first offered the role of running the series her initial reaction was some-what hesitant, perhaps due to her previous work on "Eastwick" or her pilot "Spellbound". "It's funny, when this project came to me, I did hesitate for half a beat, because I knew – I was like, "Really? Am I going to do WITCHES OF EAST END now?" But then I read the book and fell in love with the story and it is so distinct from Eastwick".
Along with running the show, Maggie has written several episodes. She also wrote the teleplay for the pilot.
Writing Credits-Witches of East End
Resume
Wasteland (1999) - 5 Episodes- Writer-
Once again (2001-2002) - 17 Episodes - Co producer & Writer
Dawson's Creek (2002-2003) Producer & Writer - 3 Episodes
Jack and Bobby (2004) - Consulting Producer & Writer
Kat Plus One (2004) - Writer
Related (2005-2006) -18 Episodes- Consulting Producer
Spellbound (2007) - Executive Producer & Writer
Eastwick (2009-2010) - 13 Episodes- Executive Producer & Writer
Witches of East End (2013-Present) Executive Producer & Writer
Ad blocker interference detected!
Wikia is a free-to-use site that makes money from advertising. We have a modified experience for viewers using ad blockers

Wikia is not accessible if you've made further modifications. Remove the custom ad blocker rule(s) and the page will load as expected.