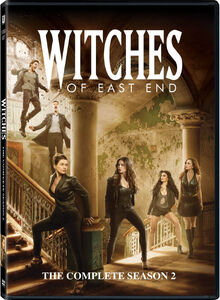 Description
Drama centering on the Beauchamp family, where in season one sisters Freya and Ingrid discovered they are witches with ancient magical powers. With the help of their mother Joanna and aunt Wendy, they learned how to cultivate their craft and work together to defeat unearthly enemies seeking revenge on their family, while keeping their abilities a secret from the town.
Product Details
DVD Specifications
Format: Color, Widescreen, NTSC, DVD-R
Language: English
Subtitles: TBA
Dubbed: TBA
Number of discs: 3
Rated: TV-14
Studio: Fox Home Entertainment
DVD Release Date: June 24, 2014
Run Time: 417 minutes
ASIN: B00VGXKNTS
References
Witches Of East End: The Complete Season 2: amazon.com/Witches-East-End-Complete-Season/dp/B00VGXKNTS
Witches of East End - 'The Complete 2nd Season' of the Lifetime Series for DVD: tvshowsondvd.com/news/Witches-East-End-Season-2/20939
Ad blocker interference detected!
Wikia is a free-to-use site that makes money from advertising. We have a modified experience for viewers using ad blockers

Wikia is not accessible if you've made further modifications. Remove the custom ad blocker rule(s) and the page will load as expected.