Spell Caster
is an interactive game created by the
Lifetime
network in 2014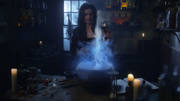 to promote
Season Two
. Users pick from one of the Six main characters. Each Character has their own Spell which they perform on screen, with the user choosing which ingredients to add to the Potion. The main ingredient of Each Spell is a photo of the User. At the end of each spell, players are encouraged to share the Spell on Social Media in order for it to work.
Joanna's Protection Spell
Requires: Gold Dust, Crawly Root & Sunhorn.
Optional Choices: Raccoon Spine, Knotted Rope or Clock Key.
"Contega trado Inaltair atonair"
Freya's Love Spell
Requires: Rose Petals, Bay Leaves & Fairy Dust.
Optional Choices: Aphrodite's Pin, Crystal or Metal Chain,
"Infinitum eros vividendrum!"
Ingrid's Reunion Spell
Requires: Glittershade, Cloverdust & Spring Nectar.
Optional Choices: Copper Coin, The Written Word or Spectacles.
"Pax optima occuren obiscum domina"
Killian's Perception Spell
Requires: Ancient Sand, Arrowhead & Sage.
Optional Choices: Shatttered Mirror, Essense of Hawk or Skeleton Key
"Consilium anima percepio"
Dash's Revenge Spell
Requires: Charcoal, Vite Diablo & Goat's blood.
Optional Choices: Lizard Skull, Rusty Nail or Ancient Dagger,
"Lusta olivie ulterio canterium!"
References
http://www.mylifetime.com/shows/witches-of-east-end/spell-caster

Ad blocker interference detected!
Wikia is a free-to-use site that makes money from advertising. We have a modified experience for viewers using ad blockers

Wikia is not accessible if you've made further modifications. Remove the custom ad blocker rule(s) and the page will load as expected.